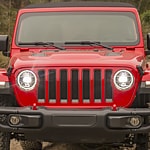 It's difficult to single out Jeep Wrangler exterior features over each other. All of them contribute to Jeep Wrangler's iconic silhouette, its efficiency and popularity. At our last Bob Allen Chrysler-Dodge-Jeep-FIAT team meeting, we finally settled on two features to discuss below. They epitomize nearly everything we love about this ever-popular compact SUV.
Trim-Specific Fenders & Flares
All Wrangler trims have a basic military-inspired silhouette that hijacks attention on Danville roads and on rugged, way-out trails. At the same time, all of the trims are unique. For example, Sahara has body-color fender flares and silver accents. It rocks 18-inch wheels. The legendary Rubicon eats up city and highway on 35-inch tires thanks to its high-stance fender flares.
Removable Doors & Windshields
The open-air Wrangler cruising down the freeway or beach is an iconic image. Wrangler's doors, windshields and tops all remove independently, so you can configure your open-air setup as you please. Plus, choose between zipperless tops, hard tops, soft tops, three-piece tops and power tops that fold back when you push a button.
Take a Jeep Wrangler out for a spin today with a test drive at our dealership.